Phytochemical analysis and antimicrobial activity of different extracts of Orthosiphon pallidus
Mukesh Kumar Singh

Shri Rawatpura Sarkar Institute of Pharmacy, Kumhari, District Durg, Chhatisgarh, India.

http://orcid.org/0000-0001-5753-2700

Hemant Dhongade

Shri Rawatpura Sarkar Institute of Pharmacy, Kumhari, District Durg, Chhatisgarh, India.

http://orcid.org/0000-0001-8652-8145

D. K. Tripathi

Shri Rawatpura Sarkar Institute of Pharmacy, Kumhari, District Durg, Chhatisgarh, India.

http://orcid.org/0000-0002-3475-8683
Keywords:
Antimicrobial, Orthosiphon pallidus
DOI:
10.3329/bjp.v12i1.30863
References
Dethe UL, Joshi SS, Aparadh VT. Screening of bioactive compounds of Sesbania grandiflora and Pistia stratiotes. Indian J Adv Plant Res. 2014; 1: 27-30.
Kokate CK, Purohit AP, Gokhale SG. Textbook of pharmacognosy. 4th ed. Nirali Prakashan, 1994, pp 107-11.
Perez C, Pauli M, Bezevque P. An antibiotic assay by the agar well diffusion method. Acta Biological Et Medicina Experimental. 1990; 15: 113- 15.
Prathapan A, Singh MK, Anusree SS, Soban K, Sundaresan A, Raghu KG. Antiperoxidative, free radical scavenging and metal chelating activities of Boerhaavia diffusa L. J Food Biochem. 2011; 35: 1548-54.
Regina KMM, Adama H, Jeanne M, Odile N. Ethnobotany and ethnopharmacognosy of Lamiaceae species from central Burkina Faso: Leucas martinicensis (Jacquin) R. Brown, Hoslundia opposita Vahl and Orthosiphon pallidus Royle Ex Benth. Am J Ethnomed. 2015; 2: 219-32.
Singh MK, Gidwani B, Gupta A, Dhongade H, Kashyap PP, Tripathi DK. A review of the medicinal plants of genus Orthosiphon (Lamiaceae). Int J Biol Chem. 2015; 9: 318-31.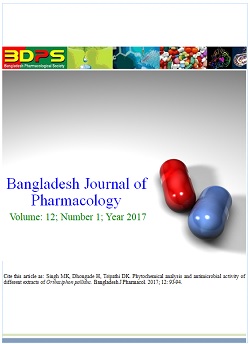 Apply citation style format of Bangladesh Journal of Pharmacology
Section
Letter to the Editor
Copyright (c) 2017 Mukesh Kumar Singh, Hemant Dhongade, D. K. Tripathi
This work is licensed under a Creative Commons Attribution 4.0 International License.
Financial Support
Self-funded
Conflict of Interest
Authors declare no conflict of interest