Lipid lowering efficacy of fraxetin, a coumarin derivative on high fat diet-induced hypercholesterolemic rats
Ayyakkannu Purushothaman

Post-Graduate and Research Department of Biochemistry, Mohamed Sathak College of Arts and Science (Affiliated to the University of Madras), Chennai 600 119, Tamil Nadu, India.

Ramalingam Sundaram

Post-Graduate and Research Department of Biochemistry, Mohamed Sathak College of Arts and Science (Affiliated to the University of Madras), Chennai 600 119, Tamil Nadu, India.
Keywords:
Coumarin, Fat diet, Fraxetin, Hypercholesterolemic, Lipid lowering
DOI:
10.3329/bjp.v15i3.47113
References
Bekkouch O, Harnafi M, Touiss I, Khatib S, Harnafi H, Alem C, Amrani S. In vitro antioxidant and in vivo lipid-lowering properties of Zingiber officinale crude aqueous extract and methanolic fraction: A follow-up study. Evid Based Complement Alternat Med. 2019; 2019.
Bernardis, LL Prediction of carcass fat, water and lean body mass from Lees 'nutritive ratio' in rats with hypothalamic obesity. Experientia 1970; 26: 789-90.
Challa S, Prasanna KD. Antioxidant and antiapoptotic effects of fraxetin against lead induced toxicity in human neuroblastoma cells. Org Med Chem Int J. 2018; 5: 555651.
Durrington P. Dyslipidaemia. Lancet 2003; 362: 717-31.
Dal Forno AH, Câmara D, Parise B, Rodrigues CF, Soares JJ, Wagner R, Ribeiro SR, Folmer V, Puntel R, Haas SE, Farias FM. Antioxidant and lipid lowering effects of dried fruits oil extract of Pterodon emarginatus in Caenorhabditis elegans. Arab J Chem. 2019; 12: 4131-41.
Friedewald WT, Levy RI, Fredrickson DS. Estimation of the concentration of low-density lipoprotein cholesterol in plasma, without use of the preparative ultracentrifuge. Clin Chem. 1972; 18: 499-02.
Jukema JW, Cannon CP, de Craen AJ, Westendorp RG, Trompet S. The controversies of statin therapy: Weighing the evidence. J Am Coll Cardiol. 2012; 60: 875-81.
Khan R, Ahmad W, Ahmed M. Stellaria media attenuates the hyperglycemia and hyperlipidemia in alloxan-induced diabetic rat. Bangladesh J Pharmacol. 2019; 14: 80-86.
Liu ZL, Liu JP, Zhang AL, et al. Chinese herbal medicines for hypercholesterolemia. Cochrane Database of Systematic Reviews (online), 2011, No. 7, Article ID CD008305.
Mo Z, Li L, Yu H, Wu Y, Li H. Coumarins ameliorate diabetogenic action of dexamethasone via Akt activation and AMPK signaling in skeletal muscle. J Pharmacol Sci. 2019; 139: 151-57.
Rodrigues CF, Salgueiro W, Bianchini M, Veit JC, Puntel RL, Emanuelli T, Dernadin CC, Ávila DS. Salvia hispanica L. (chia) seeds oil extracts reduce lipid accumulation and produce stress resistance in Caenorhabditis elegans. Nutr Metab (Lond). 2018; 15: 83.
Srivastava R, Srivastava P. Lipid lowering activity of some medicinal plants: A review of literature. Biomed J Sci Tech Res. 2018; 9: 6853-56.
Tan MH, Johns D, Glazer NB. Pioglitazone reduces atherogenic index of plasma in patients with type 2 diabetes. Clin Chem 2004; 50: 1184-88.
Taşdemir E, Atmaca M, Yıldırım Y, Bilgin HM, Demirtaş B, Obay BD, Kelle M, Oflazoğlu HD. Influence of coumarin and some coumarin derivatives on serum lipid profiles in carbontetrachloride-exposed rats. Hum Exp Toxicol. 2017; 36: 295-301.
Tejada S, Martorell M, Capó X, Tur JA, Pons A, Sureda A. Coumarin and derivatives as lipid lowering agents. Curr Top Med Chem. 2017; 17: 391-98.
Thuong PT, Pokharel YR, Lee MY, Kim SK, Bae K, Su ND, Oh WK, Kang KW. Dual antioxidative effects of fraxetin isolated from Fraxinus rhinchophylla. Biol Pharm Bull. 2009; 32: 1527-32.
Xie W, Xing D, Sun H, Wang W, Ding Y, Du L. The effects of Ananas comosus L. leaves on diabetic dyslipidemic rats induced by alloxan and a high-fat/high-cholesterol diet. Am J Chin Med. 2005; 33: 95-105.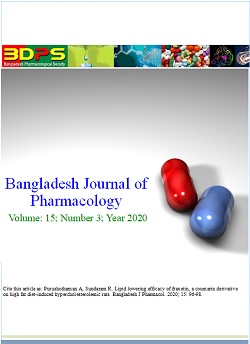 Apply citation style format of Bangladesh Journal of Pharmacology
Section
Letter to the Editor
Copyright (c) 2020 Ayyakkannu Purushothaman, Ramalingam Sundaram
This work is licensed under a Creative Commons Attribution 4.0 International License.
Financial Support
Self-funded
Conflict of Interest
Authors declare no conflict of interest