Antiproliferative effect of Memecylon malabaricum leaves methanolic extract against A-431 cell lines
Keywords:
Memecylon malabaricum, A-431 cell lines
DOI:
10.3329/bjp.v17i2.59408
References
Aalinkeel R, Hu Z, Nair BB, Sykes DE, Reynolds JL, Mahajan SD, Schwartz SA. Genomic analysis highlights the role of the JAK-STAT signaling in the antiproliferative effects of dietary flavonoid: Ashwagandha in prostate cancer cells. Evid Based Complement Alternat Med. 2010; 7: 177-87.
Adaramoye OA, Sarkar J, Singh N, Meena S, Changkija B, Yadav PP, Kanojiya S, Sinha S. Antiproliferative action of Xylopia aethiopica fruit extract on human cervical cancer cells. Phytother Res. 2011; 25: 1558-63.
Gaikwad R, Shinde A, Hajare A. Herbal treatment for management of psoriasis: An overview. Res J Pharm Technol. 2022; 15: 1385-92.
Gupta S, Hussain T, Mukhtar H. Molecular pathway for (−)-epigallocatechin-3-gallate-induced cell cycle arrest and apoptosis of human prostate carcinoma cells. Arch Biochem Biophys. 2003; 410: 177-85.
Khatoon K, Ali A, Ahmad FJ, Hafeez Z, Rizvi M, Akhter S, Beg S. Novel nanoemulsion gel containing triple natural bioactives combination of curcumin, thymoquinone, and resveratrol improves psoriasis therapy: In vitro and in vivo studies. Drug Deliv Transl Res. 2021; 11: 1245-60.
Moyo B, Mukanganyama S. Antiproliferative activity of T. welwitschii extract on Jurkat T cells in vitro. Bio Med Res Int. 2015 Oct 18;2015.
Nowak-Perlak M, Szpadel K, Jabło´nska I, Pizon M, Wo´zniak M. Promising strategies in plant-derived treatments of psoriasis: Update of in vitro, in vivo, and clinical trials studies. Molecules 2022; 27: 591.
Shinde DB, Koratkar SS, Sharma NE, Shitole AA. Antioxidant activity and antiproliferative action of methanolic extract of liquorice (Glycyrrhiza glabra) in HepG2 cell line. Int J Pharm Pharm Sci. 2016; 8: 293-98.
Srinivasan R, Natarajan D, Shivakumar MS. In vitro evaluation of antioxidant, antiproliferative potentials of bioactive extract-cum-rutin compound isolated from Memecylon edule leaves and its molecular docking study. J Biol Active Prod Nat. 2016; 6: 43-58.
Thiagarajan K, Mohan S, Roy TK, Chandrasekaran R. Antiproliferative effect of Acacia nilotica (L.) leaf extract rich in ethyl gallate against human carcinoma cell line KB. Indian J Pharmacol. 2020; 52: 488.
Wu J, Sun H, Huo J, Wang Y, Li J. Screening and analysis of anti-A431 cell proliferative fraction of Euphorbia fischeriana Steud. extract. Biomed Res. 2016; 27: 1231-36.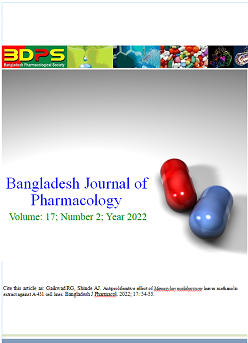 Apply citation style format of Bangladesh Journal of Pharmacology
Section
Letter to the Editor
Financial Support
Self-funded
Conflict of Interest
Authors declare no conflict of interest