Author
Author
More than 70% of journal retractions on drug therapy topics have been reported as due to scientific misconduct. The National Science Foundation (2001) defined scientific misconduct as fabrication, falsification, or plagiarism in proposing, performing, or reviewing research or in reporting research results.
Abuse of Authorship
| | |
| --- | --- |
| | The abuse of authorship is the one of the debated issues among the medical journal editors. Much has been written. Yet little success has been achieved to eliminate the abuses and pitfalls of authorship. An original manuscript is submitted to the Bangladesh Journal of Pharmacology by a corresponding author on behalf of several authors. During online submission, he/she also agree that all the authors read the manuscript. But if the corresponding author does not allow the other authors to read the manuscript before submission then the serial of authors may arise after submission to before publication. The question may raise even after publication. |
| | |
| --- | --- |
| | The corresponding author may request for |
If we suspect guest, ghost or gift author, then we inform you to avoid the
Gift (guest) authorship: Someone is added to the list of authors who has not been involved in the research work.
Ghost authorship: Someone has been involved in writing the paper but is not included in the list of authors.
| | |
| --- | --- |
| | Our readers are familiar with the common abuses of authorship such as departmental/institutional head insisting the junior to write his/her name in each and every paper which is difficult to eradicate. The junior is bound to include such person as author, fearing that the vindictive backlash will be swift and detrimental to the career. |
Conflict of interest
Author may hide any conflict of interest.
Self-citation
| | |
| --- | --- |
| | Self-citation can be performed by the author(s), journal, and institution. Here, we will discuss about the self-citation by the author. It is not necessarily inappropriate by default. In fact, usually it is fully appropriate and often it is necessary. On the other hand, inappropriate self-citation (an author uses his/her published article as reference in the new work without any scientific reason) practices may be highly misleading and may distort the scientific literature. This is usually done with an intension to boost his/her bibliometrics performance. |
First and last authors prefer to use self-citation.
Duplicate Submission of Manuscript
Duplicate submission means the practice of submitting the same study to two journals more or less at the same time. These submissions/publications can be nearly simultaneous or years later. It is also unethical. There are several reasons, such as the need to have many publications to obtain an academic degree, promotions or research grant. Authors may attempt this due to a need for quicker publication. Some authors withdraw their manuscript from other journals as soon as it is accepted by one journal.
Duplicate submission is unacceptable behavior, as is duplicate publication. For duplicate publication, the article is retracted and a retraction notice is published by the journal.
We check for duplications whenever a request for withdrawal is received.
How to Avoid Duplicate Publication?
> Cite all related papers, including those submitted but not yet accepted

> Be clear in submitting a manuscript what new information it contains

> Understand what conditions all authors listed on a manuscript endorse in giving permission to publish a manuscript

> Give preference to publishing a potentially classic and comprehensive article instead of dissecting results into minimally publishable pieces

> Challenge criteria for promotion that indicate greater emphasis on quantity than quality of publications
Redundant publication
Redundant publication means the situation that one study is split into several parts and submitted to two or more journals.
Data Falsification
Data falsification means manipulating research data with the intention of giving a false impression. It includes manipulating images (e.g. micrographs, gels, radiological images), removing outliers or "inconvenient" results, changing, adding or omitting data points, etc.
Image manipulation
With the advancement of software, the digital image is manipulated (fake image, pristine image and image splicing), although the percentage is low. Photographic reproductions of experimental results may be easily altered by researchers, leading to an increasingly high rate of scientific papers containing unreliable images. The images of the blots (Western or Southern), gels (e.g., DNA labeled agarose gels), light microscopy (e.g., fluorescence or brightfield images), electron microscopy (TEM, SEM) and molecular docking. Digital manipulation of image raises ethical issues of truth, deception, and digital image integrity.

There are some software which help to manipulate the images. On the other hand, there are software which are used to diagnose the manipulation.

A reviewer or reader first diagnose the fake image(s). They have hardly access to the raw data.

We are conscious when some authors submit images to our journal about image manipulation.
A few questions are raised:
Does the image is raw or processed?
If processed, evenly the whole image or not?
Is the processed image is a single individual image or combined by stitching together?
Does the image is free from any cloned content?
Unethical issue is raised when fake image (Copy any object from another image and paste it), pristine image (modify the image in size, brightness) or splicing image is submitted by the authors.

This is the original image of histopathological study of liver sections of rabbit. (A) Normal group; (B) paracetamol-treated group; (C) silymarin-treated group. This Figure was published in an article of Bangladesh Journal of Pharmacology. If author X copy it and paste that in his manuscript, then the image will be considered as fake image.
The magnification of image C is not similar to image A or B. The magnification of Figure C is higher than the image A or B. This type of image manipulation is pristine image.

Image A is collected from the normal histological image of one article, image B from paracetamol-induced damaged liver histopathology of another article and image C from a silymarin-treated image of third article. These three images are pasted serially and you may claim your own findings. This is an example of splicing image.
One can manipulate the image of gel electrophoresis (actually done by the Editor-In-Chief of Bangladesh Journal of Pharmacology for understanding purpose)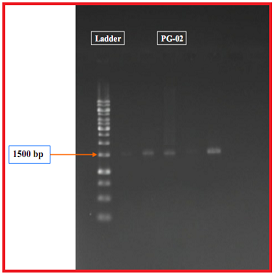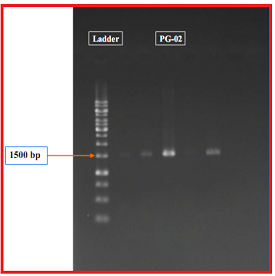 Real image: Gel eletrophoresis Manipulated image: Gel eletrophoresis
In the manipulated image, the band in Ladder column immediately below the1500 bp is copied and placed in the PG-02 column at 1500 bd. This is done to make to band prominent in case of PG-02.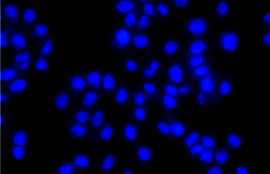 Real image: Before treatment Manipulated image: Showing after treatment
Fluorescence microscopic picture of morphological changes of human breast cell lines after treatment of compound X.
Image manipulation by the authors is not acceptable. To stop this, we check the images provided by the authors by different software (not disclosed).
Data Fabrication
Data fabrication means theft of data from an uncredited author or generation of completely artificial data
>

The reviewer suspects the data fabrication in case of manuscript review whereas the reader reports after publication of an article.

> Detection of data fabrication using statistical tools such as Excel, SPSS. etc.

> It is essential that all data are accurate, and representative of your research. Data sharing is more and more prevalent, increasing the transparency of raw data. We may request you to upload the raw data as a supplemental file.

> Cases of data fabrication/falsification will be evaluated by the editor of the journal.
We may then ask authors to provide supporting raw data where required. We may ask the Editorial Board members to assist in further evaluation of the paper and allegations. If the explanation is not satisfactory we will reject the submission. We may also choose not to accept future submission.
COPE recommends the steps taken by Journal Editors for suspected fabricated data:
Flowchart for a
published article
| | |
| --- | --- |
| | We remain as a neutral player. The potential misconduct must be handled confidentially. The written communication including the allegation and the evidence of the complainant must be kept as a record. The issue with the accused (co-)author must be raised timely. Assess what exactly has happened (fact-finding) and be transparent and final about decisions. |
>

If misconduct is apparent after publication at any time, the retraction will be done and notification to the author(s)' institute will also be subsequently done.
Unethical author conduct:
failure to obtain institutional review board approval
failure to obtain patient informed consent
forgery of secondary authors' signatures on submission
Plagiarism and Duplication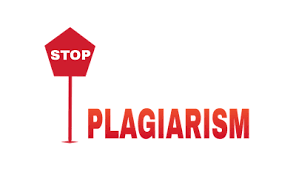 The journal has policies against any kind of plagiarism and duplication.
>

Plagiarism occurs when someone presents the work of others (data or text) as if it was his/her own without proper acknowledgment. There are different degrees of plagiarism. The severity is dependent on various factors:

The extent of copied material,
originality of copied material,
position/context/type of material, and
referencing/attribution of the material used.

> Each manuscript will be screened for plagiarism by "Plagiarism Detector" software. The manuscript will be rejected with notification to the corresponding author in case of plagiarism detected more than 10%.

> Every case of plagiarism is different and therefore decisions will vary per case. Does it concern an honest mistake or is there an intentional deviation from the scientific norm? Please note there are many grey areas between honest, questionable, and fraudulent practices.

> Self-plagiarism is the redundant reuse of your work, usually without proper citation. It creates repetition in the academic literature and can skew meta-analyses if you publish the same sets of data multiple times as "new" data. Therefore, if you're discussing your previous work, make sure you cite it.

> Authors submitting to a Bangladesh Journal of Pharmacology should be aware that their paper may be submitted to Plagiarism Detector at any point during the peer-review or production process.

> Any allegations of plagiarism or self-plagiarism made to a journal will be investigated by the editor of the journal. If the allegations appear to be founded, we will then contact all named authors of the paper and request an explanation of the overlapping material. We may ask the Journal Editorial Board members to assist in further evaluation of the paper and allegations. If the explanation is not satisfactory we will reject the submission. We may also choose not to accept the author's future submission.

> If plagiarism is discovered only after publication, the consequences are worse for both authors and readers, because a retraction may be necessary.
Use of patient's blood or microorganism
It is unethical when an author uses the patient's blood or microorganism without precaution. It should be mentioned in the protocol before submission to the Ethical Committee or a similar committee.